Babylon Pizza & Kebab
Babylon Pizza And Kebab aim is to bring all of our customers the best value for money, services and food around, plus we are constantly aiming to improve our takeaway service in Crewe.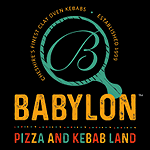 61 Nantwich Road,
Crewe, CW2 6AW,
Chesire
Delivery starts at:
Monday to Wednesday 16:35:00 - 00:15:00
Thursday 16:35:00 - 00:45:00
Friday & Saturday 16:35:00 - 01:45:00
Sunday 16:35:00 - 23:59:00
+44 1270 254334
We offer deliveries to all surrounding areas of Crewe. We offer all our customers fast food delivery. You can now order your favourite dish online and get fast home delivery. We are very particular about our service and quality to give our customers a better experience; which is why we are now proud to offer this fantastic online ordering website. You can even pay online and get your food delivered to your home in Crewe.

Exciting Hot Deals on every dish from Appetizers to Desserts, all are zestfully available at Babylon Pizza And Kebab.
Order online to get a swift delivery on time OR step in at Babylon Pizza And Kebab.
The food rates will not pinch your pocket at Babylon Pizza And Kebab, P.S. We have reasonable price!
You can pay Online or by Cash on Delivery.
Babylon Pizza And Kebab promises to serve you 100% delicious, tasty and fresh food.
Get in touch
Fill out your details and message, using the following form, to contact the business directly.
What's on in Crewe Reviews